Drive a clean car. Car Detailing Salt Lake City
Car Detailing Salt Lake City
Clean Mobile Detailing – Car Detailing Salt Lake City
Clean Mobile Detailing is one of the highest rated car detailing Salt Lake City companies. Our website is the right place to learn more about our reliable and affordable car detailing Salt Lake City services. Keep in mind, you can always call or text us as well at: 801-997-5919
Our main office is in Orem, Utah, but we provide mobile car detailing in Salt Lake City and the surounding areas. It is time to drive a clean car. Whether you need interior detail in Salt Lake City or full auto detailing, our Clean Pros are trained and ready to meet your car cleaning needs.
At Clean Mobile Detailing, we offer full service onsite detailing for your vehicles. In addition, you can book some of our optional add-ons and auto detailing Salt Lake City to ensure your car looks fresh and clean. Don't forget, we are a fully mobile auto detailing service. We Come To You!
The best car detailing in Salt Lake City
No need to search online for car detailing near me. At Clean, we are a truly mobile car detailing in Salt Lake City. Our Clean Pros will come at any location you need your auto detailing done. Work, home, school and even at the movie theater. We bring our own water and power, so we don't need your utilities either.
Our Salt Lake City auto detailing services include: car interior cleaning, hand car wash and dry, headlights restoration, car waxing, cleaning car carpets, car shampoo and more. Check our pricing here: Click Here
See some of our work: Click Here
Or visit our blog: Click Here

What mobile car detailing services do we provide?
Clean Mobile Detailing is your one-stop shop for onsite detail in Salt Lake City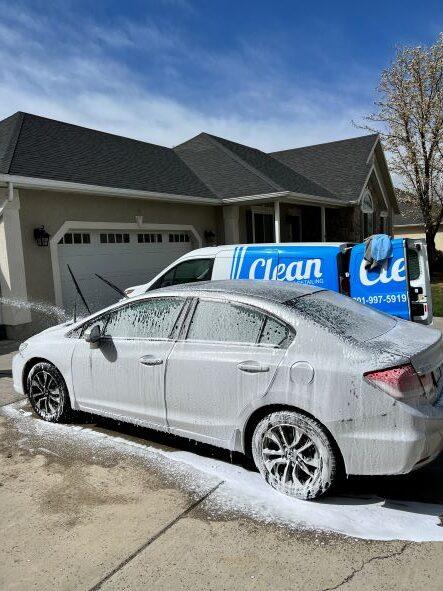 As mentioned before, we are a mobile car detailing company. Each and every Clean van is equipped to handle any car cleaning job. We bring everything we need to complete your Salt Lake City car detailing service.
The two standard services you can schedule with us include interior auto detailing and exterior and interior car cleaning. Don't confuse our exterior hand car washing with your regular car wash experience. You want to learn more about the difference: Click Here
In addition, to our standard car detailing, we offer optional add-ons.
Here is what our expert detailer can offer:
Odor Elimination Treatment
Exterior hand wash and dry
High pressure steam interior cleaning
Questions? We have the answers…
We are the experts when it comes to Car Detailing Salt Lake City
Why should I have my car detailed?
Here are a few reasons why you should detail your vehicle regularly:
Safety - cloudy windows, mirrors or lights can be a safety concern.
Odors & Bacteria - keep the interior clean and sanitized at all times.
Increase car longevity and keep high resale value
You will feel much better driving a clean car. Guaranteed! Nothing is better than stepping into a freshly detailed car for your daily commute or the upcoming road trip..
How much does car detailing cost in Utah?
At Clean Mobile Detailing, the number one auto detailing in Salt Lake City, we have very transperant pricing. Coupled with our seemless online booking that takes less than a minute to schedule an appointment and you are in good hands. Our interior detail only starts from $147 for a sedan up to $267 for exterior and interior detailing for a Minivan. For our mobile car detailing Salt Lake City customers we also offer a variety of optional add-ons that you can choose from. See all prices here.
What is exterior car cleaning?
Exterior car cleaning and detailing is the process where our Clean Pros will make your car look like it was brand new. We start with a professional hand wash & dry. Of course, we clean your wheels & tires, including dressing and shining. Additionally, we will debug your front and mirrors. You will have, streak free windows and finally, we will do a trim shine. This Salt Lake City car detailing service is something your car will appreciate and you will enjoy it.
What is interior car cleaning?
Interior car cleaning is arguably the most important thing you can do for your vehicle along with your car maintenance. At Clean Mobile Detailing, our interior car detailing process is very comprehensive and here is what it includes: trash removal, full spotless vacuum, light stain removal on carpets, floor mats and seats, high pressure steam cleaning (for all hard surfaces) including sanitization and UV protection (cup holders, dashboard, doors etc.), door jams, interior windows cleaning, trunk cleaning, FREE child car seat or booster seat + Optional Add-Ons.
Car Detailing Salt Lake City
Clean Mobile Detailing is located in Orem Utah, but we are truly mobile.
We are your one-stop shop for mobile car detailing Salt Lake City services.
Draper, UT | Riverton, UT | Bluffdale, UT | Herriman, UT | Sandy, UT | Holladay, UT | Midvale, UT | West Valley, UT | West Jordan, UT | Milcreek, UT | Salt Lake City, UT
Your city is not on the list? GIVE US A CALL: 801-997-5919 Hours of Operation
Monday - Friday:
9am – 5pm
Saturday: 9am – 1pm
Sunday: Closed