Interior Car Detailing
Truly mobile Interior Car Detailing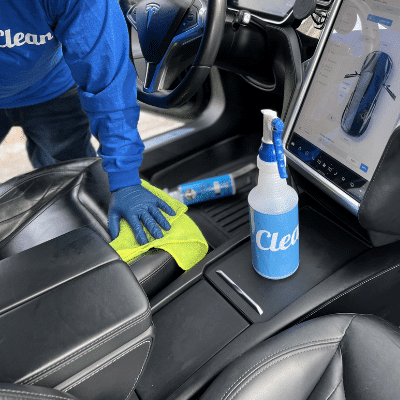 Home or Work
We Come To You!
Licensed | Insured | Trained | Certified
Highly trained and truly mobile, the Clean detailing team is fully equipped to handle your interior car detailing.
Trash Removal
The first step of interior car detailing requires the removal of all trash.
Full Spotless Vacuum
Vacuuming seats, headliners, rear cargo space, shelf, and trunk. For the areas that can't be reached using a vacuum, an air compressor can be used
High Temperature Interior Steam
Steam clean mats, carpets and seats. This removes most stains and blemishes accumulated over time.
Dashboard & Cup Holders
Dust and drink spills? No one likes a dirty car interior. Cleaning the dashboard and cup holders is a must.
Those are extra services you can book with each Interior Car Detailing. Like pet hair removal, odor elimination and more.
Learn More
Floor Mats
Car mats are designed to provide an extra layer of protection for the factory interior carpet.
All Hard Surfaces Sanitized
Screen wipes or a soft cloth dampened with soap and water to clean and sanitize all surfaces.
FREE Child Car Seat or Booster Clean
With every Interior Car Detailing the first car seat or booster seat is always FREE.
Interior Car Detailing in 3+1 Easy Steps
How it works
Pick Your Service & Plan
One time spotless exterior and interior detailing or our clean car club detailing memberships.
The Fun Part
Our 100% Mobile Detailing Pros will come for your car cleaning to a location most convenient to you .
Drive Your Clean Car
Enjoy your clean car! Your satisfaction is guaranteed and don't forget about the Clean Car Club.
Get Featured
Share your clean car and tag us on social media for a chance to win a FREE full service auto detailing.
Detail Your Car From Just $97
Clean Mobile Detailing provides you with a complete car cleaning services – full exterior & interior detailing. The best auto spa for your car: Guaranteed!
Lauren Gardner
2023-01-05
Great experience! Fit me in last minute and came early to the appointment! Interior looks so amazing! Definitely using them again!
I always want to give local businesses a 5 star rating. This business came close, I gave them a 4 star rating for missing an empty glove box and leaving my interior windshield so smeared that I had to redo it myself. Even though the team was polite I cannot give them a 5 star recommendation.
Agnesa Bakhshyan
2023-01-01
Professional and amazing work !
Janet Howerton
2022-12-31
Came right ro my house. They were in time and went right to work
Nicole McMillin
2022-12-30
They far exceeded my expectations. I have kids so my car was a mess and it looks like new!
First time having my car detailed and loved it! They did a great job! Took one star off since the speedometer glass panel was still really dusty and the backseat seat belt buckle didn't get wiped down.
So happy with the job Clean Mobile Detailing did! My car smells and looks brand new! Will definitely book again!
My car looks amazing. The guy did such a good job and got a stain out that had been there for a long time. Highly recommend. they were quick too!
Real Customers. Real Cars. Real Clean.
Get Featured on our Social Media
#HelloCleanCar | @Clean.Mobile.Detailing Hours of Operation
Monday - Friday:
9am – 5pm
Saturday: 9am – 1pm
Sunday: Closed